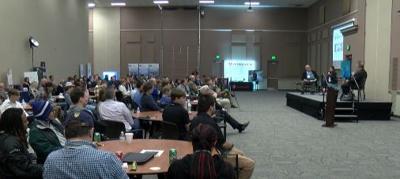 Autonomous 2.0 at WestGate
CRANE, Ind. (WTHI) – WestGate was packed Tuesday. A look around the room features a who's who of autonomous engineering.
Of course, there were folks from Crane Navy in attendance. They were giving folks a peek behind the curtain at the military side of autonomous engineering.
Colleges like Purdue and IU were there as well as Indiana State.
There was plenty to offer on the commercial side as well. Tesla showed off one of their vehicles to folks in attendance. There were also plenty of aerospace and drone agencies showing how drones are changing the autonomous industry.
All these folks also joined students from Loogootee. Giving those students as well as industry leaders a chance to connect and bring the high-tech industry to the hills of southern Indiana.
Purdue at WestGate director Jason Salstrom says, "Meeting their government counterparts, their academic counterparts, startups. Getting those connections, building some of those relationships, and hopefully, those start to develop into opportunities."